Industrial 3D printer CreatBot D600 Pro – 3D print very large and complex parts and objects
3D print with the CreatBot D600 Pro very large and complex parts and objects. The D600 Pro is an industrial high temperature 3D printer with a very high manufacturing quality and enormously large heated installation space (60x60x60 cm). The all-metal frame always offers you smooth running, precise linear guidance of the extruder and enormous noise reduction. Control the 3D printer comfortably and intuitively via the touch display and rely on reliably good production results thanks to BuildTak adhesives, heated building platform and heated filament drying chamber.
CreatBot D600 Pro improvements over D600
25 control points check the setting of the building platform and level it automatically
Precise linear guide rail for stable and smooth running
Power failure protection automatically remembers the last position and continues 3D printing
Heated building platform made of glass and BuildTak adhesives
Easy control via the 4.3-inch touch screen
Construction chamber heated to 70 degrees minimizes warping
Filament drying chamber for nylon and other hydrophilic filaments
More features of the CreatBot D600 Pro:
Manufacturing temperature up to 260°C hotend(left) and 420°C hotend(right)
High precision 3D printing – up to 0.05 mm
Stable installation space made of steel guarantees reliable results
Very large installation space of 600 x 600 x 600 mm
Completely enclosed construction chamber for stable temperatures and noise reduction
Perfect for additive production with high-performance thermoplastics
Extruder temperature up to 420 °C
CreatBot is among the first to release a 420 °C ultra-high-temperature nozzle for the mass market. Furthermore, CreatBot owns exclusive innovative patents. The high temperature extruder allows you to process a wide range of filaments. The optimized blue cooling fins cool the heat brake reliably and efficiently. This keeps the heat from the hot end away from the extruder unit. You can also fine tune the nozzle height for maximum precession. It is possible to use custom designs for single, double and triple heads.
---
High 3D printing precision
The high precision of the 3D prints is made possible by the constant research and development of the extruder feed system. With this system you can achieve high resolutions of up to 0.05 mm. In addition, it enables consistent material extrusion without the dreaded clogging of the nozzle.
Precision up to: 0.05 mm Production speed up to: 200mm/s
---
Stability of steel frame
The all-metal steel frame provides high and continuous stability for 3D printing. In addition, it considerably extends the product life cycle of the 3D printer. The optimization and cooperation of the overall structure ensures sustainable and efficient operation. In the meantime, the first series of CreatBot 3D printers has been working continuously and reliably for more than 5 years and more than 8000 hours.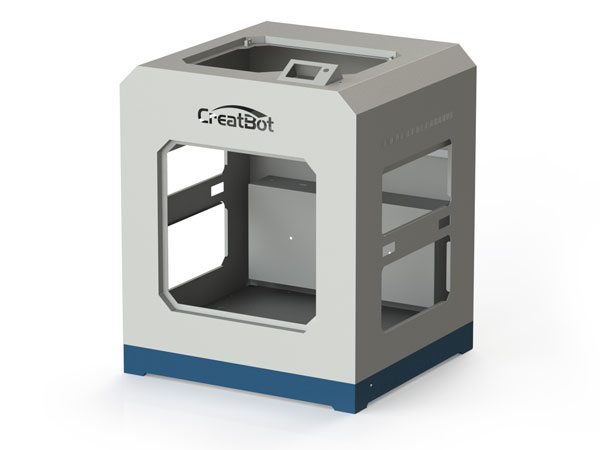 ---
Large installation space
The CreatBot D600 Pro is a true industrial 3D printer. 3D print with it extremely large objects and components of up to 600*600*600 mm. Its installation space is 30 times larger than any other ordinary 3D printer in today's mass market.
CreatBot D600 – Very large build size: 600*600*600 mm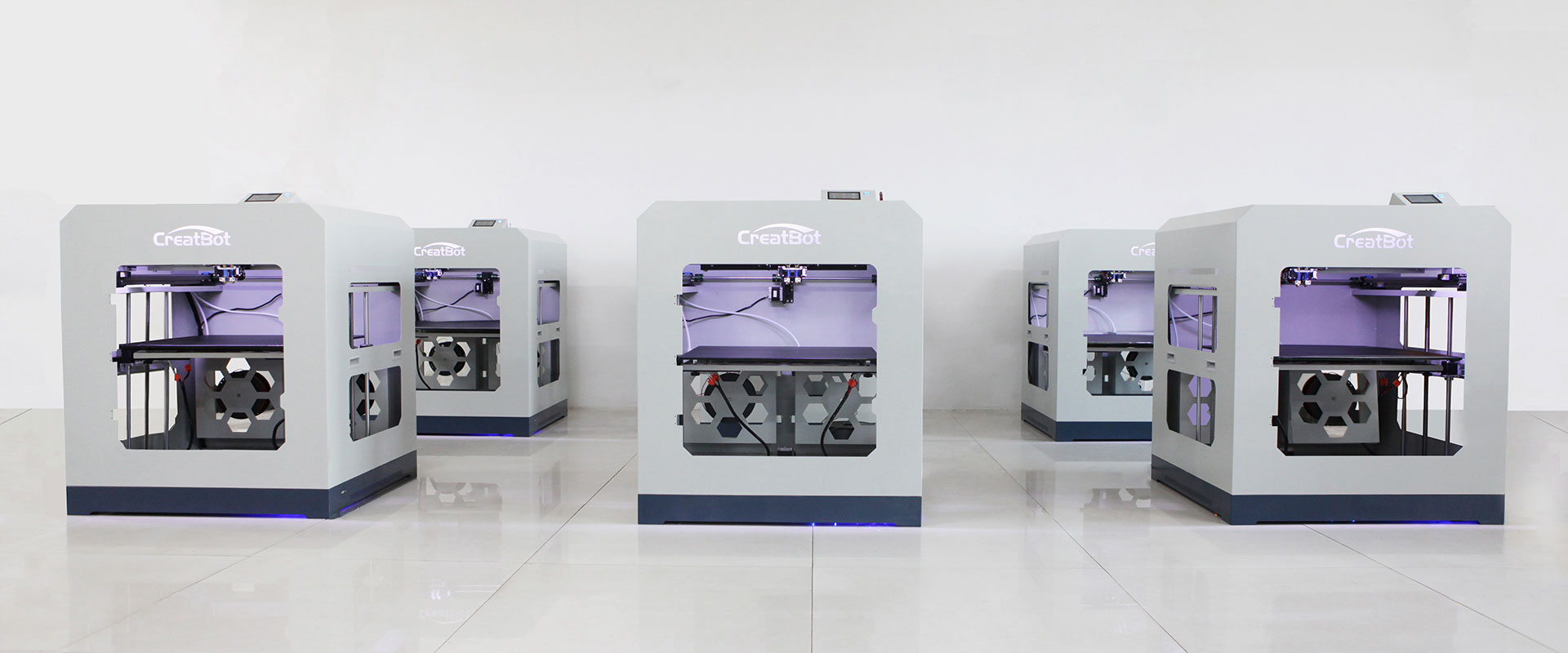 ---
Completely closed construction chamber
The fully enclosed building chamber keeps all environmental influences away from your 3D prints. This minimizes warping and keeps moisture out. So you can 3D print without worries. Furthermore, the closed design reduces noise and keeps the building temperature constant.
---
Automatic levelling of the building platform – Optimum setting
Control the CreatBot D600 Pro and automatically level its building platform. Over 25 measuring points, the BL sensor measures the distance between the building platform and the extruder unit. It stores the individual distances at the different points of the platform. Based on this information, this 3D printer automatically compensates for any unevenness.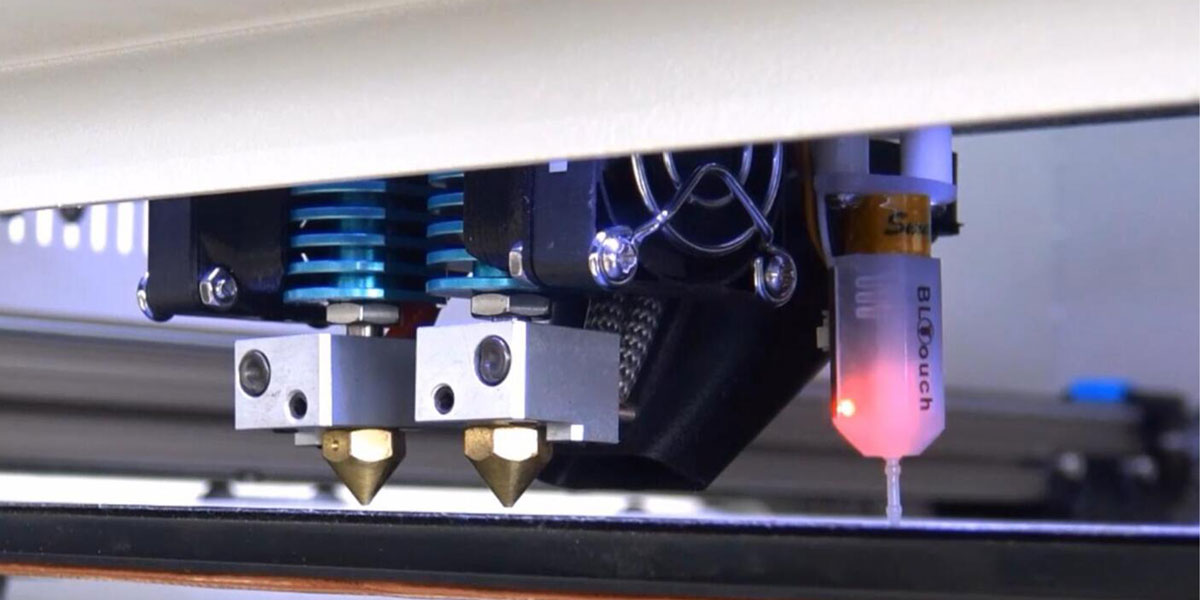 ---
Precise linear guide rail
Thanks to the precise linear rail structure you can 3D print models with a very high accuracy. Finish with 4 to 5 times more accuracy additive than ordinary mass market 3D printers. This rugged industrial design delivers superior smoothness and accurate filament feed. Produce large and complex models perfectly and reliably with the CreatBot D600 Pro 3D printer.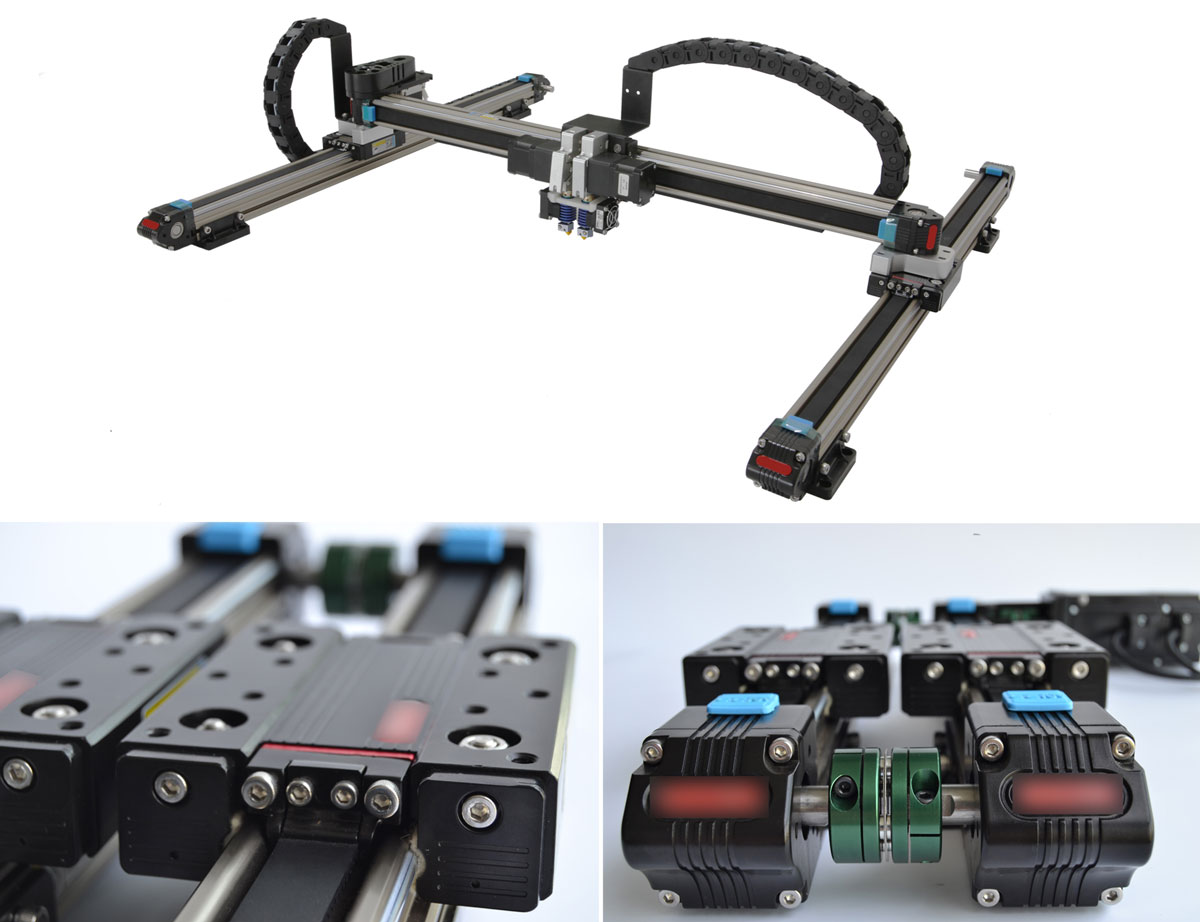 ---
Power Failure & Filament Recognition
The CreatBot D600 Pro 3D printer automatically saves the current position and status of your 3D prints. It lowers the building platform and extends the filament when the machine is suddenly turned off or the power fails. This means you can 3D print many hours of 3D reliably and repeatedly. Gone are the days when you wasted your time, filament and money on aborted 3D prints.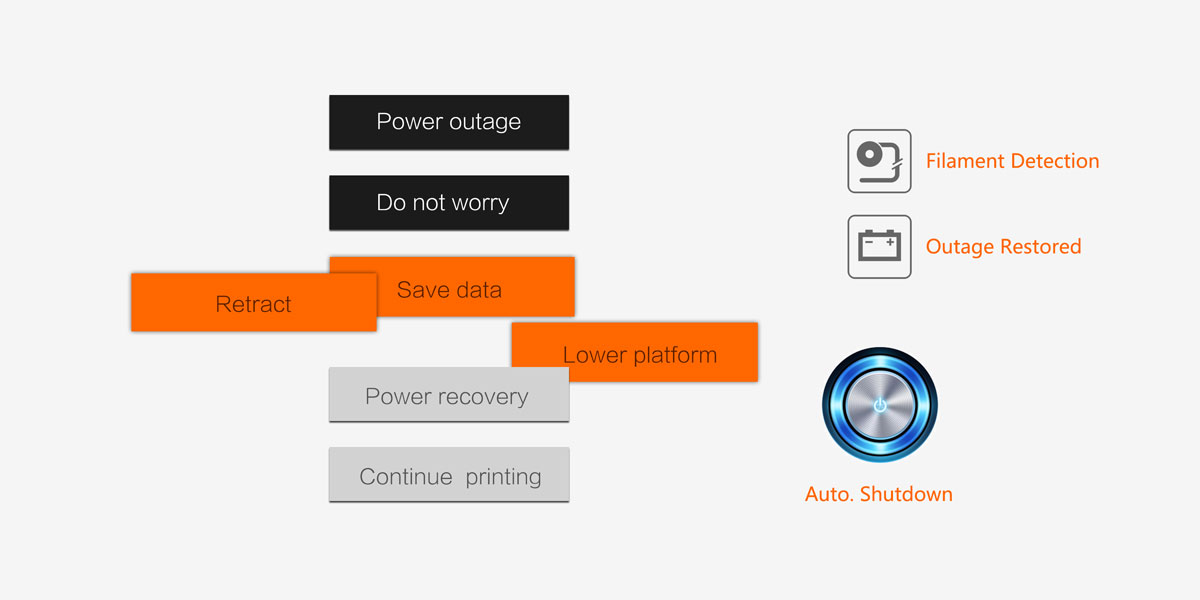 Returns Policy
We make every effort to ensure products you purchase from J-supplied 3D arrive in tip top condition and we hope you're pleased with your ordered items. We appreciate however that there are times when you might need to return items to us.
GeneralIy all cases where goods are to be returned to us, you must submit to us your returns request by emailing Martin.Jewell@j-supplied.co.uk to begin the returns process.
Please find the full conditions of returning a product to us, explained HERE